CAAU and CMCF Invite you to a Day at the Races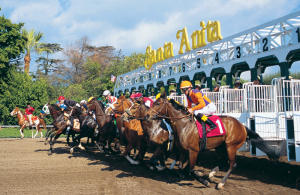 All proceeds benefit:  Childrens Clinical Hospital, LVIV, UKRAINE
WHERE: Santa Anita Park, 285 W Huntington Dr. Arcadia, CA 91007
WHEN: Sunday, June 14, 2015
POST TIME: 12:30 PM – Arrive Anytime!
COST: $100.00 per person (tax deductible)
Your ticket includes:
Park Entrance Fee, Parking, Program Book, Gourmet buffet lunch, Handicapping booklet, Handicapping Expert for the group, Named Race for CAAU/CMCF with representative group picture in Winner's Circle, entry into Raffle, convenient betting windows and machines, great view of the races, all with good company, and all for a good cause!
For more information:
CMCF Members & Friends: email philip.brewster@ml.com or call 562-301-4444
CAAU Members & Friends: email smicevych@gmail.com or call 818-774-9378
Register here for our special event:
Registration for this event is no longer being accepted. Thank you for your interest.