Often referred to as the 'Mother of Modern Neonatology', Professor Joan Hodgman spent 60 years at Los Angeles County-USC Medical Center, including three decades — from 1957 to 1986 — as director of its newborn division.  She played a central role in developing its Neonatal Intensive Care Unit–the first in Los Angeles and among the first in the nation–and led efforts that dramatically reduced the hospital's infant mortality rate.
In the late 1980's CMCF's founder, Dr. Wilk, recruited Professor Hodgman to help improve infant care in Poland.  After several needs assessment visits to Poland, during which she met Professors Jolanta Twarowska and Janusz Gadzinowski, physicians who would become among CMCF's first Fellows, she collaborated with these and other Polish physicians, as well as another world-renowned American neonatologist, Professor Michael P. Sherman of UCLA, to establish Neonatology as a recognized specialty.
Among the many ways she helped make this a reality were to foster joint research collaborations between Polish and American pediatricians, to organize international conferences and symposia where physicians could share latest medical advances, to lecture widely herself, to host Fellows in her department and to actively monitor the implementation of new treatment modalities throughout Poland.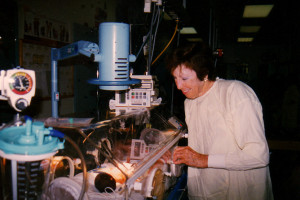 Dr. Hodgman was also a prolific researcher, who contributed to more than 300 articles and books, and was particularly known for her studies on sudden infant death syndrome.  She remained extremely active in her role as CMCF Board Member until the time of her passing in 2008, and her contributions are difficult to overstate.
Dr. Hodgman held a Bachelor's Degree from Stanford University, Cum Laude (1943) and a Medical Degree from the University of California San Francisco: School of Medicine (1946).  She taught Pediatric Medicine at University of Southern California, and in the mid 1950's established the Division of Neonatology at Los Angeles County-USC Medical Center, the first in Los Angeles.

The following are but a few of the honors bestowed upon Dr. Hodgman:  Phi Beta Kappa: American Cancer Society Certificate of Appreciation (1963-1964); B'nai B'rith Women, Cameo of Commitment Award (1969); National Foundation, 4th Annual Healthy Baby Day Meritorious Award (1969); Muses of California Museum of Science and Industry, Woman of the Year (1974); Los Angeles Times, Woman of the Year (1976) as well as Cares – Women in Medicine Outstanding Achievement (1979).  The most prestigious award given for contributions to Perinatal Pediatrics is the Virginia Apgar Award, presented by the American Academy of Pediatrics.  This was awarded to Dr. Hodgman in 1999.