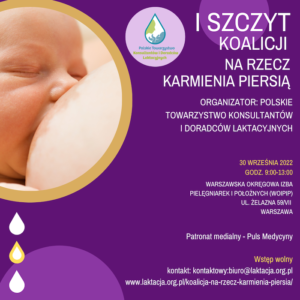 On September 30, 2022, the Polish Lactation Consultants and Advisors held its First Summit of the Coalition for Breastfeeding at the headquarters of the Warsaw Regional Chamber of Nurses and Midwives (WOIPIP) in Warsaw, Poland.
CMCF Vice President, Jolanta Martinoff, attended the event at the invitation of Prof. Maria Wilińska, Head of the Department of Neonatology at the Independent Public Clinical Hospital-CMKP, Warsaw, and one of Poland's strongest advocates for increasing parental and public awareness of the many benefits of breastfeeding. 
Physicians from across the globe presented findings of their research on breastfeeding's positive impact on everything from healthy child development to family budgets, to the healthcare system as a whole, to the global economy and even to the health of the planet.
Mrs. Martinoff addressed meeting attendees about the foundation's history and aims and invited them to get in touch regarding potential financial support of initiatives they were spearheading. 
The first physician-advocate to take Mrs. Martinoff up on her offer was Prof. Barbara Królak-Olejnik, Chief of the Department of Neonatology at Wroclaw Medical University, who invited Mrs. Martinoff to tour her department the following week.
On that visit Mrs. Martinoff had the privilege of meeting Prof. Królak-Olejnik's treatment team and getting a firsthand look at how it handled milk banking and other breastfeeding-specific patient support strategies and techniques.