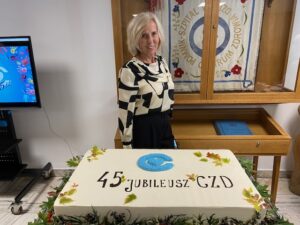 On October 15th, 2022, medical luminaries from across Poland convened at Instytut "Pominik-Centrum Zdrowia Dziecka in Warsaw to celebrate 45 years of it providing country-leading pediatric care and cutting edge medical research that has played a prominent role in the transformation of pediatric and neonatal care worldwide. 
On hand for this nationally televised event was CMCF's Vice President, Jolanta Martinoff, who was there to receive a Meritus Pro Nati award for her and her husband's (CMCF President, Bjoern Martinoff) tireless dedication to the two institutions' shared aims.
Mrs. Martinoff addressed attendees about the history and close collaboration between CMCF and CZD, one that dates back almost as far as the hospital itself. In her remarks, she reminded attendees that it was one of the Institute of Mother and Child's early pediatric surgeons, Dr. (and later Prof.) Zygmunt Kalicinski, who conceived of, and did the crucial initial outreach that laid the groundwork for, the international medico-scientific exchange that would become the Children's Medical Care Foundation.
In the intervening four decades, CMCF has sponsored supplemental specialized medical training for no fewer than 19 current and former Institute of Mother and Child physicians at some of the world's finest medical centers, including UCLA School of Medicine, Harvard Medical School, Columbia University Medical Center, the University of Nebraska Medical Center and Boston Children's Hospital. 
Along with their daily delivery of exemplary pediatric care, many of these outstanding physicians have hosted successive generations of CMCF Fellows in their medical departments. We are grateful to CZD-for the standard of excellence in pediatric care it has and continues to set-and for the vital training partnership we continue to rely on to this day.